New Years in Fiji: First to the Plate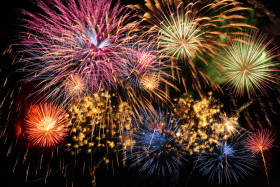 With New Years fast approaching, many people are wondering "what is the best place to ring in the new year?" You could do the old favorites, like New York City or London, but why freeze your but off when you are trying to party? You could try Las Vegas, but then you will be the last to the party (except California, but who cares about them anyway?)
Why not spend your New Years in Fiji? The tropical paradise of Fiji is the best place to celebrate New Years no matter how you like to celebrate. Fiji in the midst of their summer season during New Years (they are in the southern hemisphere), so you will have amazing beach weather. The average temperature in Fiji in December and January is in the upper 80's fahrenheit! and the water temperature is beautifully temperate at about 82 degrees Fahrenheit. I guarantee there is no better cure for a New Years Day hangover then lying out on a warm Fijian beach, and taking a dip in the crystal clear waters of a lagoon.
Fiji is unique for New Years celebrations because the island chain actually cradles the international date line. Some of the islands in the far east of Fiji are actually in a different day then the islands to the west. If you are staying on Viti Levu, or in the Yasawa or Mamanuca Islands, you will be able to celebrate New Years before anyone else in the world! If you are really adventurous, you can celebrate New Years on one side of Fiji, then head over to the other side and celebrate it again on the other side of the International Date Line!
However you like to celebrate New Years, Fiji has the right party for you. On the main island of Viti Levu they have a great club scene and street parties in Nadi, and Suva. These are definitely a great place to party till dawn on New Years. If you are staying at a resort island, and still want to party on the mainland, you should book a float plane trip to get you back and forth in a decent amount of time. (I'm sure the last thing you want to do after a night of partying on Nadi is to spend 4 hours in rough seas on a ferry.) If the big party isn't your scene, you could have a more exclusive party at one of the resorts like Turtle Island.
Turtle Islands New Years party features Fijian Warriors performing "Kabu" fire dances that are only performed authentically by the local Fijian village. There are also Tropical cocktails, and Fijian savories. The evening will also include a 3 course dinner, dancing and a boat ride. Learn more about New Years on Turtle Island here
Other resorts have different festivities planned for New Years as well. Castaway Island is having a beach carnival that is sure to be a blast. You can check them out, or visit one of the other resorts, and make your plans for the ultimate New Years Vacation in Fiji.
Whatever your idea for a perfect New Years in Fiji celebration is, you can find it in the South Pacific Tropical Paradise of Fiji.