Romantic Travel for a Romantic Fiji Honeymoon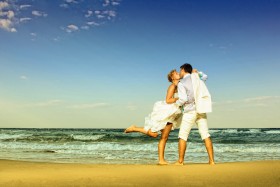 Visiting heaven on your honeymoon
Fiji is considered as the most romantic place on earth, which makes it the perfect getaway – away from the humdrum and fast paced city life, for your romantic Fiji honeymoon, anniversary or renewal of vows. Getting in touch with nature is very easy with its pristine virgin beaches and untouched tropical forests that are delightfully charming and romantic in all the right senses.
Small beaches for romantic honeymooners
If you are looking for a quiet romantic place that you can spend with your loved one at an affordable price, Yasawa (Yah-sow-wah) would be the perfect choice for your romantic Fiji honeymoon. It consists of 20 small islands with volcanic origins that are located on the northwest part of Viti Levu. Check out the Octopus Resort situated on Waya Island. They offer clean accommodation and good food and entertainment at a reasonable rate.
Exploring Fiji at its best for your wedding anniversary
There are other things that you can do such as hiking over the Sigatoka Sand Dunes or have a fun picnic on Sigatoka Valley on the Coral Coast in Viti Levu. It is located between Waidroka Bay and Natadola Beach. You can check in five-star hotels such as Shangri-La and Outrigger and enjoy an adventurous quiet Fiji honeymoon.
Get fascinated with history and culture
To get a glimpse of Fiji's colorful history, you might want to visit Suva, the capital city of Fiji. Why don't you visit the Fiji Museum and the Cultural Center at the Pacific Harbor if you want to understand the beautiful place of Fiji for honeymoon? If you are into skydiving, have a one-of-a-kind experience by jumping off an airplane in the Old Capital of Levuka.
Quick and easy Fiji honeymoon
If you only have a few days to enjoy your romantic Fiji honeymoon, Mamanuca Island is your best option since it would only take you about an hour via boat to get you to the port. Rent yourself a car and give yourself at least five days so you can completely visit and enjoy the beauty of the island. Check in at the Castaway Island Resort and relax at their king-sized beds and high ceilings covered with genuine Masi cloth.
References: