Weddings in Fiji – Legally Binding?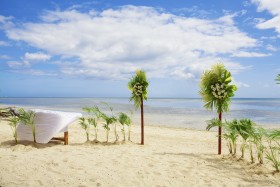 What to Know about Weddings in Fiji
These days, increasing numbers of couples opt to combine their wedding and honeymoon and get married in tropical locations such as Fiji. providing that the couple complies with local regulations pertaining to applying for a marriage license and meeting the eligibility requirements to get married, the Fiji wedding will be legally-binding, regardless of where in the world the couple lives. Fiji island weddings may only take place between adults, aged 18 and older. To obtain a marriage license, the couple must provide the following documentation to the Registrar General's Office in Suva, or its regional offices, at least two weeks prior to the Fiji wedding date:
original birth certificates

valid passports

divorce papers, if previously married

death certificate, if previous spouse died during the marriage
The couple will also need to supply a certificate of single status or certificate of no legal impediment, if the marriage is between:
a Fiji citizen and a foreign citizen

former citizens of Fiji

foreign nationals residing in Fiji
Types of Weddings in Fiji
Both religious and civil marriages are available in Fiji, and there is no shortage of registered officiants representing wide-ranging faiths to perform the official ceremony. While a couple may bring their own officiant with them, who can conduct the ceremony and bless the rings, a locally-registered officiant must solemnize the marriage and sign the marriage certificate. Couples should be aware that all officiants in Fiji belong to a certain church and there are no non-denominational ministers. Couples wishing to be married in the Catholic faith have additional requirements that they must fulfill, including sending a letter of freedom, baptism certificates and confirmation of pre-wedding studies to the Fijian priest, three months prior to the wedding.
Once the license has been issued, the Fiji wedding ceremony must take place within 21 days. Once the wedding has taken place, the officiant will forward the registered marriage certificate to the Foreign Affairs office to obtain an Apostille seal, which authenticates that the marriage is legal and should be recognized internationally as such.
Whether the couple is looking for a small and intimate, or large and lavish Fiji island wedding venue, there are locations to suit all tastes and budgets. Many hotels and resorts offer wedding packages, that will take care of venue, ceremony and catering. These packages can represent good value for money, and will take care of all the preparations, leaving the happy couple free to make the most of their time in paradise.