A Fiji Wedding Packages: All Inclusive and Easy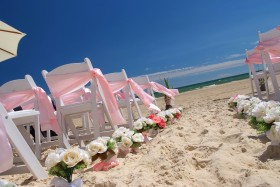 Fiji Wedding Packages – The Ultimate Romantic Wedding
Warm sun, white sand beaches, the gentle lapping of waves on the shore… it's easy to understand the popularity of Fiji weddings. All-inclusive packages are the least stressful and perhaps also the best value option for organizing your Fiji destination wedding. When you book an all-inclusive Fiji wedding package, you have the peace of mind of knowing that none of the essential details, which include applying for the marriage licence, registering the union, and hiring a suitable registrar, will be overlooked.
Fiji wedding all-inclusive packages usually include the ceremony, accommodation for the bride and groom, the marriage fees, and often some extra details to make the day particularly special. Flights are not usually included, but transport from the airport often is. It goes without saying that you should check when booking your Fiji destination wedding what transport arrangements are included for you and your guests.
If your flights are not included as part of your Fiji wedding all-inclusive package, you have plenty of options for getting to Fiji. Air Pacific fly non-stop from Los Angeles to Fiji's Nadi airport, or you can take a flight to Hong Kong and catch a connecting flight from there. When booking your wedding, ask about how to travel from Nadi airport to your resort – many resorts offer a pick-up service for the bride and groom, and sometimes also for guests, as part of the all-inclusive package.
Accommodation for guests is usually not provided in Fiji wedding packages, so you should either book enough rooms in the resort to accommodate your entire party, or suggest alternative accommodation nearby. A reception for your guests is often included, but the number of guests you can invite varies depending on the capacity of the resort. For example, Plantation Island Resort offers a reception for up to 30 guests (in addition to the bride and groom), whereas the Outrigger resort on the mainland can provide a Fijian feast and drinks for up to 50 guests.
When it comes to Fiji weddings, the decision of whether to tie the knot on the mainland or on an outlying island is an important one. Mainland resorts are easier to get to, and they are generally bigger, which means they can accommodate more guests. However, some couples want to get away from it all by eloping to one of Fiji's tiny islands. The exclusive Turtle Island Resort is the perfect setting for an intimate and romantic wedding ceremony. The all-inclusive Turtle Island grand beach wedding package includes a DVD of the ceremony, as well as photos, so that you can share your special day with friends and family when you get home.