Seeing Fiji From the Air: The Ultimate Fiji Scenic Tour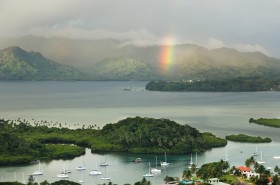 So you are planning your Fiji Vacation. You have activities planned out to make the most of your time in the exotic paradise that is Fiji. Sailing the beautiful Lagoons one day, Diving the reefs another. Deep Sea Fishing on yet another day. And lets not forget plenty of lazy days on the magnificent secluded beaches of your island paradise. But what is the ultimate Fiji Adventure?
How about a scenic flight around the Fiji Islands? Fiji is an archipelago of more than 332 islands, of which 110 are permanently inhabited, and more than 500 islets, amounting to a total land area of about 7,100 square miles. Needless to say, there is a lot to see in Fiji. What better way to see the sights the from above. Soaring over the clear waters of the Fiji reefs, and mountainous rainforests of deserted islands, a scenic flight is truly a memorable adventure that must be taken while visiting the beautiful island nation of Fiji.
Turtle Airways, a local seaplane airline that has been operating in the Fiji islands since 1979, has several packages available to give you a unique experience on your Fijian vacation. Weather looking for a scenic sightseeing flight through the beautiful Yasawa Island group or a day trip to spend the afternoon on the secluded beaches of an uninhabited island, Turtle Airways should be your first choice in airborne adventures while visiting Fiji.
Imagine yourself taking-off from Nadi's Wailoaloa Waters, and in a few seconds you catch some of Fiji's breathtaking views from the air; where you glimpse the radiant coral beneath, enriched by the color and sea-life that call it home. As you soar over this natural wonder, you soon discover the picturesque islands that scatter the crystal clear and turquoise waters of the Fijian seas.
---