All You Need To Know About Lautoka Fiji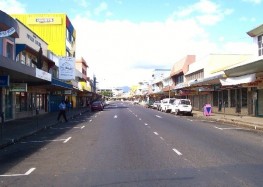 Lautoka city, otherwise known as Sugar City, is Fiji's second largest city after Suva. The city is located in Fiji's vast sugar growing region on the sparsely populated island of Viti Levu. Therefore, Lautoka is a sugar processing centre with the first sugar mill having been built in 1903. Sugar is Fiji's second largest foreign exchange earner after tourism, which gives Laotoka City great economic clout. However, this city also plays a significant role within Fiji's tourism industry and is a popular tourist destination.
Brief History of Lautoka
The name of the city comes from the cry `Lau-toka' which means `spear hit'. According to local legend two chiefs ruling the island of Viti Levu fell out with each other and the dispute had to be settled in a duel. During the duel one of the chiefs, struck his fellow with a spear which caused him to cry out in agony `Lau-toka' thus signifying his demise. This story of the origin of the name Laotoka has several variants with all ending in a duel between two noblemen and the immortalized cry of `Lau-toka'. The growth of Lautoka has been proportional to the growth of Fiji's sugar processing industry. The island of Viti Levu, on which the city, was deal for sugar cane farming due to its sparse population from the earliest times. As more and more sugar mills were established within the vicinity of Lautoka, the city's population grew from 12,000 in the 1970's to its current population of over 100,000 persons, living within and in the suburbs of the city. The city is probably better known by golfing enthusiasts as the birthplace of the PGA Tour Hall of Famer, Vijay Singh.
Hotels, Resorts and Apartments in Lautoka
Lautoka City has a number of cafes and tourist shops that offer a wide array of traditional artifacts and antiques, which are ideal souvenirs. Some of the older sugar processing mills offer a chance to delve into the rich history of sugar production on the island of Viti Levu. Furthermore a number of world class hotel, resorts and apartments are located within Lautoka City itself or within a few kilometers of the city center. Within Lautoka city the Northern Club apartments and the Sea Breeze Hotel are worthy of mention. The Northern Club consists of 6 self-contained air-conditioned one-bedroom apartments with an Olympic sized swimming pool within easy reach. The Northern Club offers great value for money for such exceptional comfort. The Sea Breeze Hotel is an ideal venue for relaxation and rest for fatigued travelers. It offers affordable air-conditioned rooms which overlook a spectacular view of the ocean.
Within 5 kilometers or so from Lautoka, are the Fiji Orchid and the Saweni Beach Apartment hotels. The Fiji Orchid hotel features a tropical garden that covers over 5 acres of land filled with local flora and fauna and featuring an extensive collection of domesticated and wild orchids. The hotel also has a massage parlor, a sun terrace and is located within 400 meters of the white sands of Saweni beach. The Saweni Beach Apartment hotel is consists of air-conditioned one-bedroom apartments in two long complexes alongside two 8-bed dorms, a communal kitchen and a spacious lounge area. Located next to Saweni beach, the hotel offers easy access to the white sands for beach volleyball, barbecues and other leisure activities. This hotel is ideal for large groups looking for affordable yet exceptional accommodation.
Within 15 kilometers of Lautoka are 3 world class resorts which are the Anchorage Beach Resort, the Fiji First Landing Beach Resort and the Sapphire Bay Fiji. The resorts offer variations of bungalow accommodations, state of the art swimming pools, world-class restaurants offering cuisines from all the world, expansive private beaches and panoramic views of the Pacific Ocean. These are exceptional places that can offer the ideal accommodation you need in Fiji.
Travel and Financial Services
Lautoka is 24 kilometers of Nadi airport which is 9 kilometers from Nadi town. Affordable local bus shuttles operate between the Nadi and Lautoka with departures every 15 minutes. Local buses also commute between Lautoka and Saweni beach which is at a distance of 8 kilometer from the city. There are several banks that operate within down Laotoka. These banks offer fair currency exchange rates as well as secure ATM locations at Vitogo Pde, Yasawa street and Namoli avenue.