Bull Shark Diving In Fiji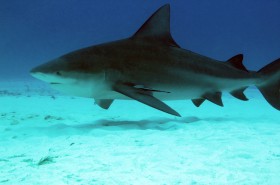 Swimming with bull sharks in Fiji can be an exciting and memorable adventure. Bull shark diving in Fiji without a cage might sound insane for some, but if you actually try it you'll discover that sharks aren't all the terrifying monsters we think they are.
About sharks we learn that they have slowly evolved for millions of years into nature's most deadly assassins. They have become some kind of lethal eating machines with lighting quick speed, razor sharp teeth, and a thirst for human blood. Hollywood takes advantage of their scary looks to make horror movies such as "Jaws". This feed millions of people around the world with a terrifying fear of sharks.
However, in Fiji's magical underwater world, people looking for an exciting thrill are seeking the company of sharks. If you are one of those adrenaline junkies with a hobby for extreme sports, Fiji will luckily deliver you the thrills you seek. On their Shark Reef Marine Reserve you can go bull shark diving in Fiji. The Reserve is located off the coast of Beqa island. You can see there up to eight different species of shark. Beqa Adventure Divers offers trips to experience scuba diving right into the shark-infested waters and go face to face with the scary killers of the underwater world.
However, the Marine Reserve would not allow bull shark diving in Fiji if that would be really dangerous for the public. The truth about shark attacks on humans is that, despite popular belief to the contrary, they are extremely rare. Statistics show that the odds for that to happen are less than the odds you'll die from a lightning strike, bitten by a human, killed by wasps or bees, or die in a dog attack. Knowing the statistics will make it easier for you to join the exciting adventure of bull shark diving on the Beqa island. The Marine Reserve is actually organizing this for over ten years and they never had any problems. Swimming with the sharks is just a bit more risky than just watching them on National Geographic channel.
Here, on the Beqa island, in the Marine Reserve, divers from all over the world come to experience the thrills of diving with large Bull and Tiger sharks that can weigh hundreds of pounds and grow 8 to 15 feet long. Certainly these underwater beasts will make nervous even the most daring adventurers.
The diving experience will allow you to have about 100 foot descent into the ocean waters and position on a top of a coral wall once at the bottom. From there you can look down into a sandy pit and start the shark feeding with fish parts from plastic containers. This will soon attract a mass of reef fish and not long after the sharks will make their apparition too. The first to come are usually the Gray Reef sharks, Black Tips, and Nurses. They are pretty impressive too, at their 4 to 6 feet length. But then the 400 pound, teen foot long Bulls monsters will make their apparition, with their scary teeth. However, despite their menacing appearance, they will usually keep distance from the divers and stay busy eating the fish offering.
After around 17 minutes of shark watching you will ascended to 30 feet depth to swim just a foot or two away from the Nurses, Grey Reefs, White Tips, and Black Tips. You will be accompanied by expert dive masters that will take care of the safety of the diving expedition and even use some aluminum poles in order to keep overly excited sharks from getting too close.
The Shark Reef is along the south coast of Fiji island of Viti Levu, just offshoure at Pacific Harbor. Beqa Adventures have the sole rights to dive the reef. The fee paid by every diver who joins the expedition goes to the local villages. The shark diving expeditions are organized every week. Before the diving trip you will receive a thorough explanation from a dive guide on what to expect and what are the safety rules. As a measure of protection all divers should wear full length wetsuits and gloves. The divers are usually accompanied by 4 experienced diving guides.
Only experienced divers are allowed to participate to the bull shark diving in Fiji. In case that you fancy it yourself, you too can experience the exciting shark diving in Fiji archipelago.