Exotic Fiji private transfers: is it worth it?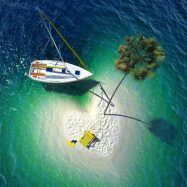 Whether you are a corporate traveler, in Fiji for a wedding, or on a budget, we've got the good, the bad and the downright ugly on island transfers
Getting ready to visit Fiji? Depending on whether you are a corporate/VIP traveler, a vacationer or celebrating a special occasion like a wedding and honeymoon, or if you are a budget conscious traveler, private transfers can make your island transfer a smooth experience. But what about other ways to get to your island destination? Let's explore the good, the bad and the downright ugly…
If you are a corporate or VIP traveler in Fiji for meetings and/or a vacation
The good
Traveling in style is safe and convenient in Fiji. When you choose a seaplane, it can have you to your destination in about 10-minutes, on average. When your flight lands, just have your arranged driver or a taxi take you directly to the seaplane, (about a 15-minute ride from the airport), and you will find that this fast tracks you through all the crowds and congestion. A ferry might take 4-hours to arrive.
Seaplane transfers can range anywhere from FJD$399 up to FJD$994 per person.
The bad
The only down side to seaplane travel is weight restrictions, so if you're traveling with a lot of equipment or if you have a large group that will be traveling by seaplane, you may want to call ahead and reserve more than one charter.
The ugly
The only ugly side to seaplane travel would be the weather. When you make your bookings, have your travel agent or secretary follow up a few days ahead of time to keep an eye on the forecast. Your pilot wants to ensure you have the safest and smoothest ride.
Total time: About 30-minutes up to an hour.
Total cost: About FJD $399 up to FJD$994 per person.
If you are a vacationer or in Fiji for your wedding and/or honeymoon
The good
Depending on how much you want to splurge, you can get to your island resort fast with a seaplane. On average, you can arrive in under an hour from the time you leave the airport. If you take a water taxi or ferry, it can be up to 4-hours.
The bad
Depending on how many are in your party, if you are traveling for a wedding, you may need more than one seaplane charter especially if you are bringing your cousin with all his DJ equipment! Just call ahead for an estimate and relax. Your private charter will get everyone to their resort destination safely!
The ugly
Not everyone in your party may want to splurge on a seaplane, and that's okay. Let them make their own arrangements. There are various types of ways to get to your island getaway and these include speedboats, water taxis and ferries. Depending on how much they want to spend, they may arrive in about 2-hours, but it can also take them up to 4-hours. Let them see the next section so they can budget their time and money accordingly and have the mai-tais ready in about 2- to 4-hours!
Total time: About an hour.
Total cost: About FJD $399 up to FJD$994 per person.
If you are budget conscious, don't mind the lines and want the best deals
The good
Here's where it can get a little tricky. As a budget conscious traveler, you can find deals on getting around the various islands, but you may find that it takes a lot longer and there are some inconveniences and headaches you might run into:
Standard island transfers from NadiAirport can be through ferries, speedboats, seaplanes or helicopters. For budget conscious tourists, know that ferries, water taxis, and catamaran transfers may run you anywhere from FJD$121 per person up to about FJD$819 per person.
Caution: If your flight arrival doesn't line up with the transfer time, you may find yourself waiting up to 3 or 4-hours for the next transfer.
The bad
For starters, a boat can sometimes take up to 4 hours or more to get you to your destination. That's because if you use local ferry service, they may make only one transfer a day with multiple stops. The boats can be crowded from several passengers who are traveling at the same time as the captain may not leave until his boat is completely full. The boats can reek of exhaust fumes and gas from the engine idling in between stops. Passengers may not feel safe in older boats and they may not be ready for the boat rocking if the waves are high which can lead to sea sickness and ruin a perfectly planned vacation.
The ugly
An online reviewer mentioned that transfers are expensive, the boat they were on leaked, and some passengers got sea sick. While they pictured a scenic ride, they were actually on what looked like an old fishing boat. The guest and his pregnant wife didn't feel safe.
Total time: About 2-4 hours or longer.
Total cost: About FJD$121 up to about FJD$819 per person.
However you decide to travel, we hope you enjoy your island getaway. When you're ready to book your seaplane charter, book with Turtle Airways. Winner of the Certificate of Excellence from Trip Advisor, Turtle Airways has convenient seaplane charter service to get you to your island destination. For smooth island transfers, contact Turtle Airways today!