A Hidden Paradise! Garden Of The Sleeping Giant In Fiji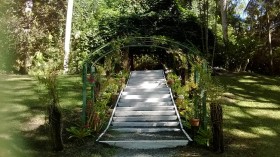 Taking a trip to the heart of Oceania in the southern parts of the Pacific is one viable decision to make. It is just important to take a break from the hustle and bustle of the city by traveling to an attractive and calm place. For this, Fiji will make a perfect destination to visit. It has lots of activities to do ranging from hiking, trekking and visiting rainforests. On top of them all, you will find it necessary to spend some time in the garden of the sleeping giant. A trip to this part of the country will help you understand why many people like it for a magnificent relaxation touch.
Directions to the Garden Of The Sleeping Giant In Fiji
It is if found in the Sabeto Valley which is situated 7 kilometers north of the Nadi airport. A flight to Nadi and a 10 minute drive northwards will let you into the majestic Highlands in which the garden of the sleeping giant is found. A clear look at it from a distant and you will be able to form body part images in your mind. The image is even better if observed in the morning.
Where to stay
There are numerous garden villas in Nadi fully equipped to accommodate you and your family for as long as possible. You will be amazed at the unique features and the personified service offered by their staff. Some have swimming pools for each family together with a mini waterfall! Get an opportunity to enjoy some of the local dishes together with a great variety of your favorite meals. The effect is always made better by bar sections for total relaxation. The good thing is that Nadi is just 10 minutes away from the garden of the sleeping giant thus you don't need to worry about how to get there in the morning.
A perfect drive into the garden
Queens Hwy road is very common here as it leads you to Lautoka; another perfect destination! But for you, exploring the garden is your first priority. So, turn into a mostly dirt road named Wailoko. Don't worry as there is a signpost off Queens Hwy road showing you where it is. This road is quite rough and bumpy though there are trying to upgrade it, but this adds to the whole exciting drive. You can dot your drive with short breaks to get pictures of the mountain cliffs, interact with the local Fijians and herd some goats with the locals also. You may as well get free goat meat by just being social to them!
The real thrill inside
The entrance is on your left off the dirt road. After you drive into the garden, the serene surrounding prepares you for the amazing things to come. As you enter, there is a reception area noticeable by the high backed cane chairs made exotic by dark red and green cushions. At this moment, you will feel memories of your old times come back. A famous actor, Raymond Burr, was the one who took care of the lovely orchids you will be seeing in nearly all parts of the garden. He is the one that made it what it is right now.
Walk through the forested pathways
You will then be given a tour guide to help you the attractively forested pathways. Some parts feel darker even at midday. There are over 2000 species of these pretty tropical flowers as raised by Raymond for you to wow at. A cool breeze accompanies you making the forested pathways feel naturally romantic. You will get to understand why honeymooners really like this place. By this time you will have noticed two or three couples on honeymoon for sure!
The manner in which this garden is nestled in Sabeto valley is what makes many to visit again and again. There is a heavy cover of leafage on the pathways from the rainforest as the orchids smile on your sides. If you feel tired, there are lily ponds and benches for a perfect relaxation effect. There are no dangerous animals in here. Only wonderful birds singing nice songs as you pass through the rainforests. By the time you meander through the whole garden, a supplementary fresh drink at the reception will be necessary.
Finally, for anyone planning to visit to Fiji, then hooking up with the garden of the sleeping giant is inevitable. It is a place that makes you forget the busy life with some comfort, excellent service and the magical garden touch. A few days here and you will feel relaxed and refreshed to face the normal complicated life. It is indeed a hidden paradise.