Yasawa Islands, Fiji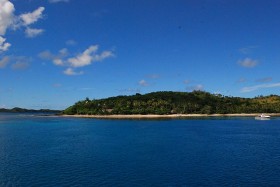 The Yasawa Islands, Fiji are a group of about twenty volcanic Fijian islands, the largest of which is Yasawa Island. The islands are remote and largely unspoiled. The Yasawa Island Resort and Spa is one of only a few exclusive resorts in this area, and it offers unrivaled service to its guests. Visitors to this all-inclusive resort stay in "bures," which are cottages traditionally constructed in the Fijian style. Despite their traditional appearance, which blends in beautifully with the surrounding wilderness, the bures are fully fitted out with modern conveniences such as air conditioning.
Yasawa Islands, Fiji Main Attractions
The Baravi Spa on Yasawa Island promises to bring total relaxation to visitors. Set in a tropical paradise, between a white sandy beach and a palm forest, this spa offers soothing massages to help holiday-makers relax and unwind during their vacation. The most highly recommended treatment is the Baravi Rhythm massage, which is performed by two trained therapists who work together to match the rhythm of the waves lapping gently against the shore.
The coral reefs close to the Yasawa Islands are a fabulous place for diving. Even beginners can enjoy themselves here, as qualified diving instructors are on hand to give instructions and carefully supervise the group to make sure everyone is safe. The clear waters around the Yasawa Islands provide excellent views of marine life, and the bright colors and bold patterns sported by the tropical fish that live here truly are a feast for the eyes.
The white sand beaches that fringe the Yasawa Islands are one of their main attractions. With so few people staying in the exclusive Yasawa Island Resort, couples can book their own private beach if they want to get away from the other guests for a while. A staff member will take them to their deserted beach by boat and leave them alone there with a complimentary picnic and a bottle of champagne. Such seclusion offers the perfect chance to work on that coveted all-over tan without fear of being disturbed.
Additional Info
*The Yasawa Islands were first discovered in 1789, but were largely ignored until the 20th century, when US communications posts were set up there during the second world war.
*Until 1987, developers were legally forbidden from building tourist resorts on the Yasawa Islands. Strict regulations are still in place to limit the impact of tourism on this unspoiled paradise.
*The Yasawa Island Resort is a sustainable resort. Guests dine on locally caught seafood and sleep in traditionally built bures.
*Yasawa Island was rated fifth in Travel Advisor's 2008 list of "Top 10 Exotic Beach Destinations."
*Fiji has a tropical climate, with a dry season that runs from June through October and a wet season running from November through April. It is warm all year round, with temperatures never dropping much below 70 F.
*Visitors who are here between May and October are in for a special treat: elegant mantra rays glide through the waters during this season.
*Scenes from the 1980 romance adventure movie "The Blue Lagoon" were shot in various locations around the Yasawa Islands.