Exploring Fiji's Yasawa Islands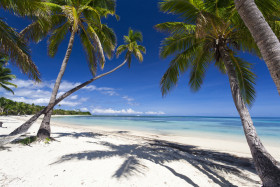 Located in the north west of Fiji, the Yasawa island chain consists of 20 islands and numerous islets of pristine South Pacific beauty. With islands dotted with local villages, and resorts, their is something for everyone on the Yasawa island chain. You can island hop in style going from economical resort to economical resort in a sort of "backpacking across the Yasawas" style, or you can choose a private, all inclusive, luxury resort. The Yasawa islands were off limits to tourists until the 1950's with views from passing cruise ships the closest you could get. This has helped to keep the Yasawas a pristine location for the Eco minded tourist.
Whatever vacation path you choose to take in the Yasawas, there are several must do activities that any vacation would come up short if you missed.
The Blue Lagoon
Famously portrayed in the Brooke Shields movie of the same name, the Blue Lagoon is a fantasy landscape of romance and intrigue. The stunning beaches, the crystal clear waters… A stop over on the Blue Lagoon is something not to be missed on your Yasawa Island getaway.
Sawa-I-lau caves
Known as the heart of Yasawa, these limestone caves require a bit of courage to see but are well with the adventure. Swimming through an underwater tunnel into these high walled limestone caves you really feel like you are entering another world. Local legends say these caves are the resting place of the Fijian God Ulutini. This amazing location seems to be otherworldly. No trip to the Yasawa islands is complete with a visit here.
Diving the soft coral reefs
The abundance of sea life along the soft coral reefs of the Yasawa island chain are a sight to behold. Impressive in their grandeur, no trip to Fiji is complete without some serious underwater time. If you show up during the right time of year, you can even swim with the majestic Mantarays!
Whatever your itinerary is while visiting the Yasawa island chain, getting from place to place can seem daunting. Although there are boats that travel between the islands, their schedule is few and far between. You can charter a boat, but then you still need to deal with the long boat rides. Conversely, you can book a seaplane flight from carriers like Turtle Airways that offer several flights per day from Nadi to the Yasawas. they also offer low flying scenic tours, and day trips to many of the must see locations in the Yasawa island chain.