Fiji Family Vacation – What Should You Consider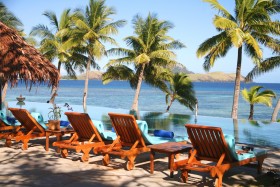 Fiji is considered one of the best places to visit in South Pacific. It's popular for its sparkling azure waters, picturesque beaches, friendliest locals and pristine rainforests. It's worth mentioning that Fiji has a very lively multicultural community with a blend of Indian, Pacific, European and Asian influences. Besides island hopping from one beautiful beach to another, Fiji is also an enjoyable place to soak in the unique culture, explore history and visit mountain villages. Even the cities are beautiful and offer many things on your Fiji family vacation.
Transfers 
When you've taken a long flight from the United States, you must be tired on reaching Fiji. However, you can be relieved with transfers arranged from the airport. Many resorts on the main island arrange transfers. However, you should organize transfers before you arrive to Fiji. In some cases, transfers may require an additional fee. In case you don't find this option feasible, you can choose from numerous taxis to reach your resort or hotel. Some brave families even prefer to catch a coach bus from Nadi to Suva. Nadi airport also connects flights to smaller islands. 
Getting Around on Your Fiji Family Vacation 
Getting around Fiji is quite inexpensive and easy. You can easily access all the island groups either by ferry or plane. Buses are also an efficient and cheap means of getting around some larger islands. They are also a good way to meet some locals. You can even hire a car on Vanua Levu or Viti Levu if you hold a valid United States driver's license. A self driving tour can be a good way to travel on your Fiji family vacation. 
Food & Drink
Chinese, European, Indian and local Fijian food is easily available at most Fijian restaurants. Typical Fijian food contains mainly meat, fresh fruit and seafood. Some of the most popular National specialties include : 
Kokoda – Raw, fresh fish cooked for hours in lime juice acid. The cooked dish is mixed with tomato, coconut milk, chillies and other ingredients to form a soup-like entree. 

Lovo – Traditional Fijian feast properly cooked in an underground oven 

When you're in Fiji, you shouldn't miss an opportunity to try foods made from some local ingredients, such as fish, coconut, sweet potatoes, rice, cassava, taro, breadfruit and more. These are the most sustainable and typical food sources. 

Kava – This is considered a cultural drink. It's also a part of the local Fiji rituals. However, your kids may not like it. The drink can have a numbing effect on your mouth. But it's a great drink for people looking for strong traditional flavors. 
Shopping 
A Fiji family vacation can't be complete without shopping. When it comes to shops, Fiji retains the islander feel. Though you can find numerous shopping centers and international fashion brands, even major cities offer various markets, handicrafts, traditional jewellery and more. All major credit cards are accepted in Fiji shopping centres. If you're looking for western-style shopping, Viti Levu will be the best choice. You can also find some good shopping places in Suva. 
When you're in Fiji, all the islands allow you to uncover local villages. Most of these villages make their own handicrafts and goods. Some interesting mementos include tapa cloth, pottery, wood carvings, woven baskets, grass skirts, facemasks, silver jewellery and more. It's worth mentioning that bargaining is considered impolite. 
Adventure 
It's worth mentioning that most resorts in Fiji lure guests with non-motorised water sports, snorkelling and other activities. You can sail a Hobie cat, take wakeboarding classes or cruise along an aqua trike. You can also enjoy boat charters, parasailing, windsurfing, jet skiing, water park and more. Fiji offers something to thrill everyone on a Fiji family vacation. 
What to Wear
Unlike the United States, Fiji is warm throughout the year. Thus, you should stick to lighter layers of clothing. When you want to check out some villages, you should be considerate. You should wear decent clothing, and keep your short skirts and swimmers for the beaches and resort pools. 
A lot of people prefer wrapping themselves in a Sulu. It's the Fijian equivalent to a Sarong. It can be worn by both women and men. A Sulu is considered the best way to cover up your body when heading back from the beach. During wet and warm months, rain gear is a good idea. Hats, sunscreen and snorkeling gear are also considered must.