Things To Know About Fiji Cannibalism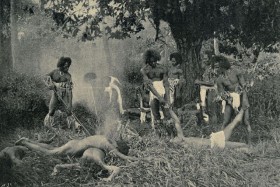 Though it is not going to happen today but still it is true that Fiji had a history of Fiji cannibalism. Exact evidences for cannibalism are not available now, but its existence in the past cannot be denied. Cannibalism was adopted centuries ago by the people who came to this island in the South Pacific from various countries like Samoa, Tonga, Hawaii, Tuvalu, Solomon Islands and Papua New Guinea etc. They started eating dead humans for their survival due to lack of adequate availability of nutritious elements.
The exact history of occupation of Fiji Island is also not known exactly but according to archeologists it started between 1600-1200 BC. Later on Polynesians from Hawaii, New Zealand, and Samoa occupied it in about 800 AD. Though the physical appearance of Fijians resembles with Melanesians from Solomon Islands, Papua New Guinea, and Tuvalu, but they adopted the culture of Polynesians.
After the arrival of Polynesians and Melanesians at this island, Fiji cannibalism was adopted by its inhabitants as the part of their diet. Later on the traditions of competition for property, women and natural resources were adopted by them, with the gradual increase in the population.
According to historians, Christian missionaries like William Cross in 1842 and John Hunt in 1848 revealed about this inhumane, horrible and shocking behavior of Fijians. In his book- A missionary among cannibals- John Hunt shared his experiences on this island. He saw people digging up the graves recently buried to take out human bodies for consumption. Several other similar evidences are also available about the existence of cannibalism in Fiji in the nineteenth century. The trapping of English missionary Reverend Thomas Baker (1834-1907) was considered to be the last act of Fiji cannibalism on this island. According to BBC News, people from Nubutautau village, who were supposed to be responsible for the death of Thomas Baker, apologized for the act of their ancestors after 136 years, in 2003, to the successors of Baker, who came there from East Sussex, England, in a public ceremony. 
According to Guinness World Record (2003), Udre, a Fijian chief, was the recorded as the most prolific cannibal as he ate nearly 900 people. It was recorded with the help of the stones he kept for every human he ate. Though nothing authentic is available in this regard but still it is assumed that he might have eaten more than 100 people. 
Places to visit related to Fiji cannibalism
Though today, Fiji cannibalism has become the part of history but still you can visit a number of places related to it along with various other picturesque sights in Fiji. You can see a number of natural places including huge caves etc. in this island which can introduce you with the tribal warfare, history of cannibalism and pagan worship.
You can enjoy the fabulous views of famous Salad Bowl of Fiji while visiting picturesque Sigatoka valley due to the colorful patches of vegetable and fruit crops grown there. While visiting there you will see the hill fortresses of Matanavatu and Taveuni and hear the stunning history of Tongan warriors who reigned the area in ancient times. 
While going the Nai hehe caves, also known as the cave fortresses of cannibal tribes, you can also participate in the kava ceremony at village Sautabu. The caves of Fiji cannibalism tribes are across the river where you can go on a bamboo raft. This place was once inhabited by hundreds of people and ruled by a pagan priest. You will not be able to see anything in these caves unless you have lanterns with you. 
First of all you enter to the hall chambers of the cave known as Pregnancy Gap which leads you to a wonderful and huge chamber of Grand Cathedral. Here you can witness a number of natural things like stalagmites, stalactites, underground springs, and flowstones etc. along with a special history of the cave. Along with priest chamber and ritual platform, you will also see a cannibal oven in this cave. You will find it really awesome as the environment of the cave was comfortable due to no bats and reptiles but plenty of fresh air and easy access.
Thus, the existence of Fiji cannibalism on Fiji island cannot be ignored though it may not possibly happen today.