5 Must Do Activities in Fiji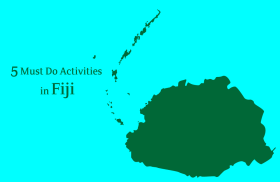 For many people, a Fiji vacation is a once in a lifetime experience. The ultimate dream holiday to a tropical south pacific paradise. However, most people who go to Fiji spend a week at a tourist friendly resort, and then go home. That is not experiencing Fiji. With more than 332 islands, (110 of which are permanently inhabited) and more than 500 islets, amounting to a total land area of about 7,100 square miles, There is a lot more to Fiji then one resort can encompass. Here is our list of 5 must do things you should leave your resort for while visiting Fiji.
Sawa-i-lau Caves
Located in the Yasawa Island Chain, in the North West of Fiji, the Sawa-i-lau caves are truly a wonder to behold. Known locally as the heart of the Yasawa, these caves are said to be the resting place of a Fijian god. Accessible only by water, you will have to swim into the Sawa-i-lau caves to experience them. You will need a local guide to take you inside, and a boat or seaplane t get you there in the first place. Boats from Viti Levu will take around 5 hours each way, so we suggest a seaplane trip to Sawa-i-lau from a local provider.
Low Flying Scenic Flights over the Yasawas
Another activity best done with a local seaplane operator, a low flying scenic flight will show you Fiji in a way few experience. Imagine zipping above the soft coral reefs, and seeing the tropic forest and volcanic islands from above. Combined with a trip to Sawa-i-lau, a low flying scenic tour of the Yasawa's will be a day away from your resort you will cherish forever.
Zip Lining on Viti Levu
If you are going to be on Viti Levu, you must check out either the Nadi, or Pacific Harbor Zip-line (or both!). Learn about the Diversity of the Fijian Rainforests while zipping through the canopy, and into the caves! Zip-Fiji's Canopy Tours are exciting, beautiful, and educational all at the same time. This is definitely an activity to experience while in Fiji.
Swimming with the Manta Rays
If your vacation to Fiji is between the months of May and October, you should take a swim with the Manta Rays! Fascinated by the swimmers, manta rays will frequently perform graceful acrobatic aquatic displays. Diving again and again, returning, twisting and turning. Magical somersaults and loop the loops.
Swimming in the Blue Lagoon.
Almost everyone has seen the classic Brooke Shields film "The Blue Lagoon". What many people don't know is that it was filmed on the actual Blue Lagoon in Fiji's Yasawa Islands. Taking a trip to the real Blue Lagoon, basking on it's beaches, and swimming in it's clear waters is a definite must do activity in Fiji.