Fishing in Fiji: A Year Round Activity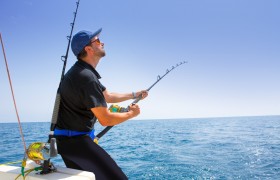 Fiji is a nation composed of more than 300 islands, and located in the South Pacific about 1,300 miles northeast of New Zealand. It has tropical marine climate year round, which is perfect for fishing. It offers great fishing opportunities the whole year round, and you can set your fishing calendar by the type of fish available for deep sea fishing adventures. Tourism is one of the its biggest dollar earners, and it is a popular getaway for couples on their honeymoon.
The principal islands include Viti Levu, Vanua Levu, Taveuni, and Kadavu. Other island groups include the Mamanuca group, Yasawa Islands, the Lomaiviti Group, and the Lau Group. Mention should be given to Rotuma, which has a special administrative status. In total Fiji covers more than 75,000 square miles (194,000 square kilometers) of territory, of which 90% is water. It has coral atolls, and deep crevasses, where the fish are plentiful. This is one of the prime locations for game and sports fishing in Fiji, as well as for reef fishing, angling, and bottom fishing. 
Of Fiji's 332 islands, only about 110 are inhabited, and it has more than 500 islets strewn across the archipelago. The fishing is great, by any measure. Deep sea fishing for dogtooth tuna, giant trevally, and Spanish mackerel is year-round. Fishing for sailfish, marlin and yellowfin tuna is also year-round, but peaking in different months of the year. Reef fishing is also a year-round activity, and the catch can include blue bar parrot fish, coral trout, green job fish, hump head wrasse, Mangrove Jack, red throat Emperor, Spangled Emperor, and other coral trevally.
There are a lot of fishing tours, and cruise charters available on Fiji. With a year round tropical weather, lots of islands and islets, and beautiful seas and beaches, it is a great romantic getaway. However, the real attraction here is the fishing. With all the water, and the big varieties of fishes, any fisherman, advanced and experienced, or a new angler, would enjoy fishing here. Anyone, fisherman or not, would appreciate the challenges and the experience of being out in the sea and fishing in Fiji, with water all around as far as the eye can see.
Being in open water, it may sometimes be choppy, but charter fishing boats are up to the task. Most charter boat companies have different boats for different fishing purposes. Deep sea tuna fishing boats can be as big as 50-footer, or longer, with a tower to boot. The fishing adventure would not be complete without an experienced boat captain and fishing guide who knows where the fishes are. 
Although fishing is a year round activity, some of the best fishing are during their peaks. Big game fishing for sailfish and marlin is best from November to February;wahoo fishing is best caught between November through May,; while mahi-mahi fishing is best from December and January, and from June to August.
Dive fishing through the corals can also be done, as Fiji has several diving companies ready to assist and accompany the avid divers. There are also some live aboard diving charter based in Fiji, which would give divers the most time underwater during their stay. 
One advantage of Fiji is its distance from most places. It is almost literally in the center of Melanesia. On the map, it is east of Vanuatu and New Caledonia, and west of Tonga and Western Samoa. The principal islands have mountainous interiors, and 90% of the citizens live along the shore or shore towns. It is not totally dependent on fishing or tourism, because its biggest export earner is sugar. 
The way the country handles its economy, especially its fishing and tourism industry, bodes well for the continued bounty for adventure fishing. The country itself understands that the sea is a renewable resource which does not need to be over-harvested. In fact, with a population which is less than a million citizens, the territory is teeming with fishes. 
Even with all that sea territory, the fishing is relatively close to the islands. For instance, there is a strong current between Viti Levu and Vanua Levu, with good reef structure and depth where there is more than ample sports and game fishing opportunities. Considering that most charter fishing boats have powerful engines capable of pushing the charter boat at speeds of up to 30 knots, fishing 20 miles off shore almost takes no time to reach.
Sports and game fishing in the South Pacific is lively and fun with all the opportunities to catch wahoos, wrasses, sail fish, marlin and tuna. Fiji should be on every adventure fisherman's wish list.