Turtle Island, Fiji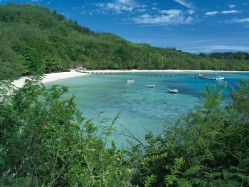 Turtle Island Fiji is a privately owned island which is home to the Turtle Island resort. As this exclusive resort accommodates only fourteen couples at a time, holiday-makers can expect privacy, peace, and the personal touch during their stay on Turtle Island. Each couple resides in their own private luxury villa overlooking the Blue Lagoon.
Turtle Island Fiji Main Attractions
Turtle Island's Blue Lagoon, which was made famous by the 1980 romance movie of the same name, is a true tropical paradise. Snorkeling in these warm clear waters provides a feast for the eyes of tropical marine species such as clownfish, lion fish, and black coral. The friendly guides are on hand to help anyone who has never snorkeled before.
Those who don't want to dip their toes in the water can observe the sea life from the comfort of a clear-bottomed kayak. One and two-person sea kayaks are available for guests to use. The still waters of the lagoon offer a safe environment for travelers to find their sea legs and have fun. It is also possible to take a kayaking trip to nearby islands to take in the beautiful scenery.
There is nothing more romantic for lovers than watching the sunset from the deck of a boat. The Turtle Island cruise boat provides the perfect opportunity to watch this beautiful spectacle. Guests can drink delicious cocktails and watch the resort staff perform traditional Fijian dances and songs as they wait for the sun to set.
Turtle Island has fourteen beautiful beaches, all of which boast soft, white sands and clear waters. The strict limits on the number of guests allowed on Turtle Island at any one time mean that the long expanses of sand are never filled up with tourists. Couples can even book a beach for their own private use, providing a perfect opportunity to work on that all-over tan without being disturbed.
Additional Info
*The Turtle Island resort was constructed by Richard Evanson, who originally purchased the island so that he could use it as the setting for the movie "The Blue Lagoon."
*The Turtle Island resort is a sustainable resort. The villas are traditionally constructed using eco-friendly materials and local labor. An organic fruit and vegetable garden provides fresh food for the guests, drastically cutting down on the amount of food that has to be shipped in.
*More than half a million trees have been planted on Turtle Island over the last 30 years, so that the island is now richly covered by a thick forest that is home to many species of tropical birds.
*Turtle Island Fiji has won several awards, including the Blue List Award for leadership in responsible tourism, which was awarded by Islands Magazine in 2009. It was also listed as one of the top 10 best resorts overseas by Luxury Travel Magazine in 2010.
*Each Turtle Island guest is treated to a complimentary "Lomi-Lomi" healing massage, which aims to restore the body's natural harmony.
*Wedding ceremonies are held on the shores of the Blue Lagoon. In traditional Fiji style, they include beating drums, flower garlands, and the trumpeting sound of conch shells being blown.
*Honeymooners on Turtle Island will be following in the footsteps of celebrities Britney Spears, Jessica Simpson, and Grant Hackett, all of whom spent their honeymoons here.