Wedding in Fiji – Fijian style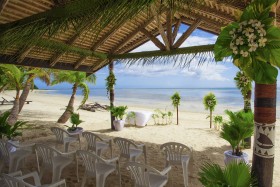 A Wedding in Fiji – Perfect Romance
A wedding in Fiji is perfect for couples who are looking for a unique way to celebrate their marriage. The tropical climate, the beautiful blue oceans and the cool sea breeze serve as a great background for a wedding ceremony. Aside from a beach wedding, you can also have your pick between getting married in a mysterious private chapel, holding a magnificent rainforest reception or tying the knot discretely in an isolated boutique resort.
Traditional Wedding in Fiji
Fiji islands weddings are unique when done according to the Fijian tradition. In Fijian culture, the marriage celebration begins with the beating of the lali drum and the singing of the village choir. With the breathtaking Fijian landscape in the background, the traditional ceremony begins. Naturally growing tropical flowers and palm fronds decorate the altar where Fijian warriors in their traditional attire escort the groom. Once the groom takes his place, the warriors lead the bride to the bamboo raft with tropical flower decorations. This bamboo raft is known as bili bili in Fiji.
The bridal procession begins when the raft starts its journey across the bay. During the procession, one of the warriors blows the conch shell or davui to announce the bride's arrival. When the raft docks on the shore, Fijian warriors meet the bride and escort her to her groom while the village choir starts singing. The exchange of vows will take place at this point. Once the Western ceremony is over, the warriors escort the groom and his bride to the bili bili. The newlyweds will then ride the bili bili together as man and wife. After the couple's procession, the kava ceremony can take place.
The Kava Ceremony
After Fiji weddings, the kava ceremony usually follows. Kava is the national drink, and this beverage is known to have healing abilities. The bilo or cup is first given to the guest who possesses the highest honor. A person needs to clap once before drinking the kava continuously and do another clap after emptying his bilo. The kava ceremony is a great social unifier which is perfect when holding a Fiji wedding reception.
Getting married is a momentous event and if you have the desire for some tropical wedding, Fiji is the ideal place with its clear beaches and unique wedding traditions.